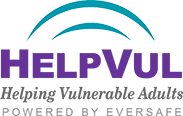 Privacy Policy
Effective Date: November 6, 2019
This Privacy Policy applies to https://www.HelpVul.com (the "Website"), operated by Elderscan, LLC ("ELDERSCAN", "we", "us", or "our"), through which the HelpVul platform (the "Platform") is provided. This Privacy Policy describes how the Platform collects and uses the personal information you provide through the Platform. It also describes the choices available to you regarding the use of personal information and how you can access and update this information.
Facts: What does the Platform do with personal information?
Why? Federal law requires us to tell you how we collect, share, and protect your personal information. Federal law also gives users of the Platform the right to limit some, but not all, sharing of personal information. Please read this notice carefully to understand what we do.
What? The types of personal information we collect and share can include:
• Name, employer, phone number, mailing address, and email address
• Social Security number
• Account number, account balances, assets, and transactions
• Unique Identifiers such as user name, account number, password, and mobile number
We use this information to:
• Provide the Platform services and administer your Platform registration
• Respond to user requests
• Identify potential suspicious activity
• Respond to your questions and concerns
• Improve the Platform, the Website, and services
• Conduct research and analysis
• Send you email notices and Platform information
When you use the Platform, we automatically collect information on the type of the device you use, operating system version, and the device identifier (or "UDID").
How? The Platform needs to share PERSONAL INFORMATION to operate the Platform for authorized users. In the section below, we list reasons why the Platform can share personal information, the reasons ELDERSCAN chooses to share, and whether you can limit this sharing. We will share personal information with third parties only in the ways that are described in this Privacy Policy. No personal information will be provided to or sold to third parties unless you have directed it to be shared with a third party or a third party you have shared the personal information with has chosen to share the personal information with other third parties. Only third parties who have been invited to utilize the Platform will have access to any personal information sent to them on the Platform. We may continue to share your personal information as described in this notice.
Reasons we can share personal information:
For Everyday Business Purposes: To provide the Platform service including purposes such as processing transactions, maintaining your registration, or as required by law, such as responding to court orders and legal investigations or other legal process, and when we believe in good faith that disclosure is necessary to protect your safety or the safety of others, protect our rights, investigate fraud, or respond to a government request. ELDERSCAN does share this information in these instances and you cannot limit this sharing.
For Service Providers: We may provide personal information to third parties who provide services in connection with the Platform or assist with other business activities, such as offering user service. These companies are authorized to use the personal information only as necessary to provide these services to ELDERSCAN. ELDERSCAN does share this information and you cannot limit this sharing.
For Marketing Purposes: No personal information will be used to offer products or services other than those supported by the Platform.
Questions?
Please refer to the "Contact Us" link on the Website.
Who we are:
Who is providing this notice? Elderscan, LLC, is a Maryland limited liability company.
What we do:
How does the Platform protect personal information? To protect personal information from unauthorized access and use, ELDERSCAN uses security measures that comply with federal and state laws. These measures include computer safeguards and secured files and office space. When you enter sensitive information or any other personal information on the Platform, we encrypt the transmission of that information using secure socket layer technology (SSL).
We follow generally accepted standards to protect the personal information submitted on the Platform, both during transmission and once we receive it. No method of transmission over the Internet, or method of electronic storage, is 100% secure, however. Therefore, we cannot guarantee its absolute security. If you have any questions about Platform security, please contact us as described above.
How does the Platform collect personal information? We collect personal information, for example, when
• a request is made for you to register to use the Platform
• a referral is entered or modified on the Platform
• a request for service is made on the Platform
• contact information is provided
Tracking Technologies: The Platform may use cookies or similar tracking technologies. These technologies are typically used in analyzing trends, administering the site, and tracking users' movements around the Website. We may receive reports based on the use of these technologies by an individual as well as on an aggregated basis.
We use cookies in order to remember users' settings and for authentication. Users can control the use of cookies at the individual browser level. If you reject cookies, you may still use the Website, but your ability to use some features or areas of the Website may be limited.
Analytics / Log Files: As is true of most websites, the Platform may gather certain information automatically and store it in log files. This information includes, but is not limited to, internet protocol (IP) addresses, browser type, internet service provider (ISP), referring/exit pages, operating system, date/time stamp, and clickstream data.
We use this information, which does not identify individual users, to analyze trends, to administer the Website, and to track users' movements around the Website. We may link this automatically-collected data to personal information. This information may be linked to the logged-in user's personal information to facilitate the handling of support requests. It helps us better assist a user if they experience any difficulties with the Website and/or the Platform.
How can I correct, update and/or delete my personal information:
If your personal information changes, or if you no longer desire to use the Platform, you may correct, update, amend, delete and/or remove any or all of your personal information other than information submitted to third-parties as part of a referral, by making the change on your member information page or by emailing ELDERSCAN User Support at
info@HelpVul.com
. We will respond to your request within a reasonable timeframe.
Links to 3rd Party Sites. The Platform will not link to any 3rd party sites, however, personal information may be transferred to the computer system of a 3rd party to whom you sent a referral or a message.
Data Retention. We will retain personal information for as long as the Platform is active or ELDERSCAN is directed to purge data by authorized individuals. Note that data send to third-party organizations cannot be purged. The Platform will retain and use personal information as necessary to comply with Platform requirements, legal obligations, resolve disputes, and enforce our agreements.
Additional Information
Changes to this Policy. This Privacy Policy may be updated to reflect changes to Platform information practices. If any material changes are made to this Privacy Policy, you will be notified by email (sent to the e-mail address specified in your registration) or by means of a notice on the Website prior to the change becoming effective. We encourage you to periodically review this page for the latest information on the privacy practices.
Collection and Use of Third-Party Personal Information. You may also provide personal information about other people. This information is used for the sole purpose of completing your request or for whatever reason it may have been provided.